PanNan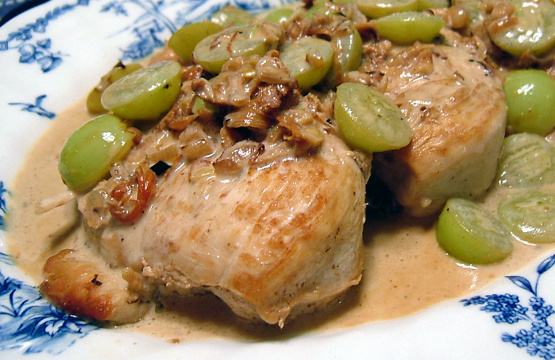 Chicken is surprisingly delicious when combined with fruit! This recipe makes a creamy sauce that is flavored with nutmeg instead of the traditional mace. The recipe calls for fresh ground nutmeg but I suppose you could use nutmeg from your spice shelf….just keep in mind… there is a BIG difference between the two! Once I discovered this I purchased a nutmeg grinder…and will never use nutmeg from a spice rack again….. I found this recipe in Tom Bridge's "What's Cooking…. Chicken" cookbook. You can add curry powder to the sauce (in step #5) and/or a little dry white wine or vermouth to the sauce (in step #3) for more flavors.

This was fantastic. I added 1/2 teaspoon of curry and doubled the sauce. I ate this with some leftover baked pasta with lemon, asparagus and mascarpone and they were awesome together -- in my review of the pasta, I had complained that it wasn't saucy enough. this sauce on the leftover pasta was perfect :) I'm definitely making this again.
Heat the butter and sunflower oil in a wide, flameproof casserole or skillet and quickly fry the chicken breast until golden brown, turning once.
Remove chicken breasts and add the chopped shallots to the pan and fry gently until softened and lightly browned – Once Shallots are browned return chicken to the pan.
Add the chicken stock and cider vinegar to the pan and bring to a boil, then cover, and simmer gently for 10-12 minutes, stirring occasionally.
Transfer the chicken to a serving dish.
Add grapes, cream and fresh nutmeg to the pan, heat through, and season with salt and pepper (add a little cornstarch to thicken the sauce, if desired).
Pour the sauce over the chicken and serve.