2Bleu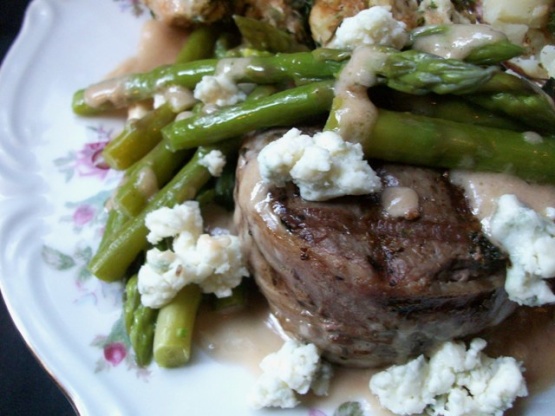 The perfect solution to the "blues"! A heavenly dish made with blue cheese! This dish won second place in the 1993 Georgia Beef Cookoff! Credit goes to Rebecca Gulledge of Marietta, Ga. Blue cheese is believed to have been discovered by accident. The caves (in France) that early cheeses were aged in shared the properties of being temperature and moisture controlled environments, as well as being favorable to many varieties of mold. Roquefort is said to have been invented in 1070 AD. Gorgonzola is one of the oldest known blue cheeses, having been created around 879 AD, though it is said that it did not actually contain blue-veins until around the 11th century. Stilton from England is a relatively new addition occurring sometime in the 18th century. Many varieties of blue cheese that originated subsequently were an attempt to fill the demand for Roquefort-style cheeses that were prohibitive either due to cost or politics.

Oh my was this good! DH has to have his portion of 'cow' every weekend and this seemed like a lovely dinner for a Saturday night. I made as directed and couldn't be happier with this dish! My asparagus cooked to crisp tender in just 5 minutes. The only embellishment I made was to add a bit more crumbled blue cheese just prior to serving. I loved the pan sauce and will use it for other cuts of meat as well. I think it would be very nice with pork chops. This will be made many times! Thanks so much for sharing it Sharon.
Rub your steaks with chopped thyme, salt, and pepper. Melt butter in a large skillet over medium heat; add oil.
Add steaks, and cook 1 to 3 minutes on each side or to desired degree of doneness. Remove steaks, and keep warm; reserve drippings in skillet.
Stir wine and consomme into drippings; increase heat to high. Cook, stirring often, until reduced to 1/2 cup.
Stir in half and half,and cook, stirring constantly, till reduced to 1/2 cup or desired consistency. Keep warm.
Snap off tough ends of asparagus; remove scales with a vegetable peeler, if desired. Cut spears in half, and place in a steamer basket over boiling water. Cover and steam 8 minutes or until just tender.
Top steaks with asparagus, and sprinkle with cheese.
Broil 6 inches from heat (with oven door partially open) 2 minutes or until cheese melts. Serve immediately with sauce. Yield: 4 servings.