Kremlin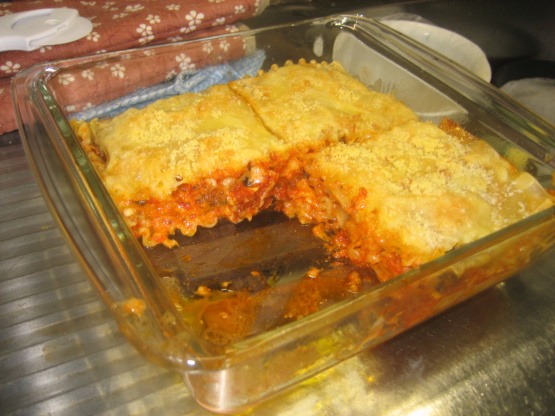 My favorite lasagna recipe. Got this one online. This freezes well too!

This was so good, and easy to prepare. I used the recommendations from gs788 - grilled the eggplant and used no boil noodles. I also added the basil in between the sauce and next layer of noodles. Definitely a great dish for Lent - and one that will be kept around for years to come in my household. This one will impress your guests. Thanks for posting !
About 1/2 hour before serving:.
Preheat oven to 350 degrees.
Prepare noodles and drain.
While noodles are cooking:.
Place bread crumbs and 1/2 teaspoon salt on waxed paper.
In small dish, beat eggs with 2 tablespoons water.
Dip eggplant into egg mixture then in crumbs.
Cook eggplant in hot oil a few at a time.
In a greased 13 X 9 inch baking dish, layer noodles, then eggplant slices, then mozzarella cheese, then spaghetti sauce.
Repeat layers.
Sprinkle with parmesan cheese.
Bake 30 minutes, uncovered.