Pismo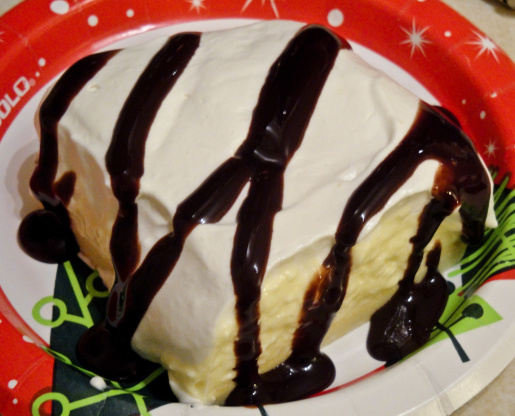 My husband loves this cake. It is often requested as his birthday cake. It's really not a cake per say, but it takes and looks great.

love love loved this cake! I am not good at baking and this turned out so-ooooo good! This is a very simple recipe and everyone loved it. I also used a spring form pan and cooked it about 5 minutes longer than called for. The only thing i would recommend maybe would be to freeze right before cutting so it doesnt make a mess. Thanks for the recipe!
Pour boiling water over margarine, let melt. and add flour.
Mix until smooth.
Add eggs one at a time, beat after each egg.
Pour into greased cookie sheet. Bake at 450 for 20-25 minutes. Cool completely.
For filling; slowly mix milk into the cream cheese. Add pudding mix and beat until smooth. The mixture will thicken.
When crust is cooled, spread filling on crust, spread Cool Whip on top, and drizzle chocolate syrup on top.