Eating Well's Pumpkin Pie Crust

Here's a pie crust recipe that has been drastically reduced in saturated fat. I haven't tried it yet but it does sound like a promising recipe. Can be made ahead by tightly wrapping in plastic and refrigerating for up to 2 days or freezing for up to 6 months. Cooking time does not include chilling time.
Directions
Whisk the flours, sugar and salt in a large bowl.
With your fingers, quickly rub butter into the dry ingredients until the pieces are smaller in size but still visible.
Add sour cream and oil and toss with a fork to combine.
Sprinkle water over the mixture and toss with a fork until evenly moist.
Knead the dough in the bowl a few times -- the mixture will still be a little crumbly. Turn onto a lightly floured surface and knead a few more times, until the dough just holds together.
Shape into a circle approximately 5 inches around, wrap in plastic, and refrigerate for 1 hour.
Remove the dough from the refrigerator; let stand for 5 minutes to warm slightly.
Roll between sheets of parchment or wax paper into a 13-inch circle.
Peel off the top sheet and invert the dough into a 9-inch pie pan.
Peel off the remaining paper.
Trim the crust so it overhangs the edge of the pan evenly (you can use kitchen shears or a butter knife).
Tuck the overhanging crust under, forming a double-thick edge.
Using your fingers, flute the edge.
Proceed with your favourite pumpkin pie recipe.
Reviews
Most Helpful
I followed Loula's advice to use this crust for Roasted Butternut Squash and Feta Pie and was glad I did. It was delicious! The addition of the wheat flour gave it more of a rustic feel which is what I had hoped for. Thanks for posting, Dreamer in Ontario.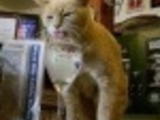 This crust is amazing! It is super easy and quick to make (totally no-fuss!) and tastes sooo good. Its flakey, too! :)
I used this to make a savoury pie: Roasted Butternut Squash and Feta Pie and therefore added some dried herbs to the dough along with the sour cream. That worked out very nicely.
Instead of using oil and butter I only used the butter and added a tbs or so more water, which was perfect.
THANK YOU SO MUCH for sharing this wonderful recipe with us, dreamer! This is my new go-to recipe for pie crust. I cant wait to make it again for a sweet pie. I already have a pumpkin in my pantry.
Made and reviewed for your being VIP during Veggie Swap #38 September 2011.