Shazzie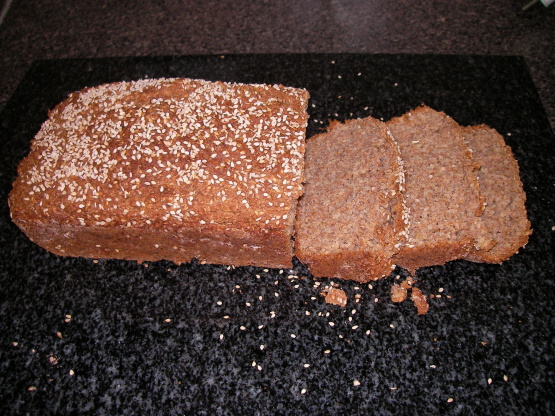 A really lovely, OH-SO-EASY, nutty and ever so slightly sweet loaf that can either be baked in the oven or the microwave or barbecued! All my guests that I have served this to over the years have asked for the recipe. (I have listed the cooking time of the oven-baked option)
Mix together the dry ingredients, reserving some of the sesame seeds to sprinkle over the loaf.
Combine the buttermilk, honey and peanut butter.
Add to the dry ingredients and mix thoroughly.
BARBECUE:.
Spoon the mixture into a greased 9 inch foil tart pan and sprinkle the reserved sesame seeds over.
Invert another foil pan over the first and fasten with wet wooden clothes pegs.
Barbecue on a grid over moderate coals for 45 minutes, turning frequently.
BAKE:.
Bake in a greased loaf tin at 375°F for 1+ 1/4 hours, or alternatively microwave at 70% power for 12 minutes.
Variation: Substitute crushed wheat or whole wheat flour for half of the Nutty Wheat.