Easy Whole Wheat Malted Barley Bread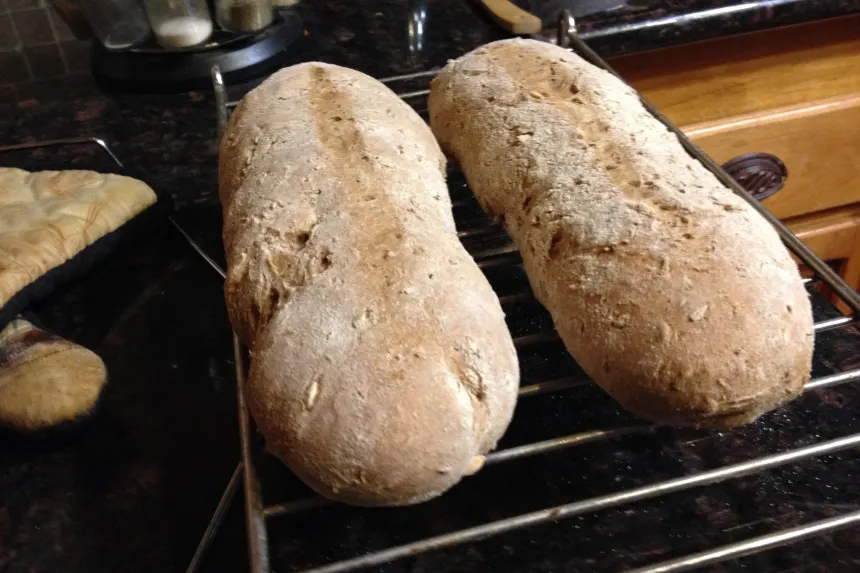 photo by Samuel Monteon

Ready In:

6hrs 25mins

Ingredients:

8

Serves:

16
directions
1) Take 100 grams of warm water, your sugar and yeast, and mix together. Set aside for 15 minutes in a lukewarm place. If the room temperature is cold, a heating pad may come in handy in your bread making. This is called "Proofing" the yeast. It will be ready once it starts to froth.
2) Divide your flour, milk , oil, salt and malted barley into two bowls in equal measurements. Add remaining 100g warm water in 1 bowl, and the 100g proof mixture into the other bowl. Knead each evenly.
3) After kneading both dough balls evenly, remove from bowls, clean those bowls and then line them with oil, and replace the balls into the two bowls. Let rest and rise for 4 hours. Again, if it's cold where you live, you may want to use a heating pad.
4) Knead both dough balls separately and replace in the bowls. Allow to rise for an additional hour.
5) Combine the dough together, kneading for about 5 minutes. Allow to rise for an additional hour. If you'd like a sourdough bread, allow it to rise longer. You can get an idea what the bread will be like by periodically (every few hours) tasting a small pinch of the bread.
6) When you're ready to bake, divide the dough into 2 long loaves, and bake in a preheated oven for 25-35 minutes or until hard on the outside. Do not overcook. A baking stone comes in handy.
7) Allow to cool. Enjoy your bread however you like. I slice it up and eat it as toast throughout the week. If however you don't plan on eating it immediately, be sure to store it in an airtight container otherwise it will get stale after 2-3 days.
Questions & Replies

I tried this recipe and the flavor turned out really well, but the texture wasn't right and the bread didn't really rise well. I'm wondering if maybe the difference is in two details that were missing from the recipe: - What kind of yeast did you use? - What temperature did you cook the bread at? Thanks!

 
Reviews
Have any thoughts about this recipe?
Share it with the community!