Easy Spicy Parmesan Toasts
alligirl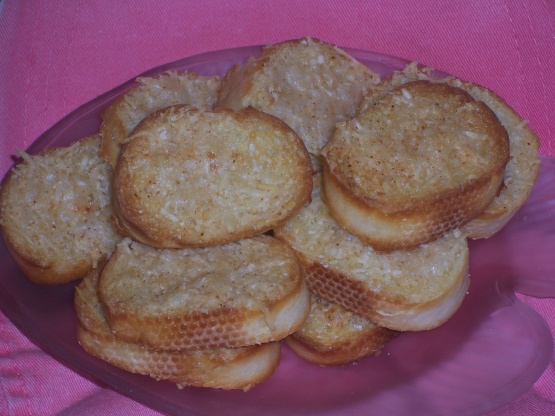 These are a favorite in my house, they are incredibly easy to make and so good!. A good olive oil and Parmesan cheese is a must with this. Purchase the long narrow French baguette for this and make certain that it is a day old, it makes slicing easier. I have even made these using melted butter in place of olive oil, and added in some garlic powder with the cayenne/cheese mixture. If you like super spicy just increase the cayenne slightly. These make a great late-nite or weekend snack! Yield is only estimated depending on the size of the baguette.

These are tasty and easy to make. I halved the recipe for an afternoon snack for 2; they would be wondrous served with a salad! I enjoyed the spice of the cayenne and the zing of the parmesan. I usually have these ingredients on hand, so I'll be making these often! Thanks for sharing, Kitten!
Set oven to 375 degrees (oven rack to second-lowest position).
Prepare a one or two large baking sheets.
Slice the baguette into 1/4-inch slices and arrange in a single layer on baking sheet/s.
brush one side with olive oil and sprinkle with salt.
Bake for 8-10 minutes.
Toss the cheese with the cayenne pepper.
Remove the toasts from oven and sprinkle with the cheese/cayenne mixture.
Place back into the oven and bake for 6-8 minutes more, until the cheese melts and the toasts are golden.
Cool completely.