Easy Shaked-Up Macaroni and Cheese
Nif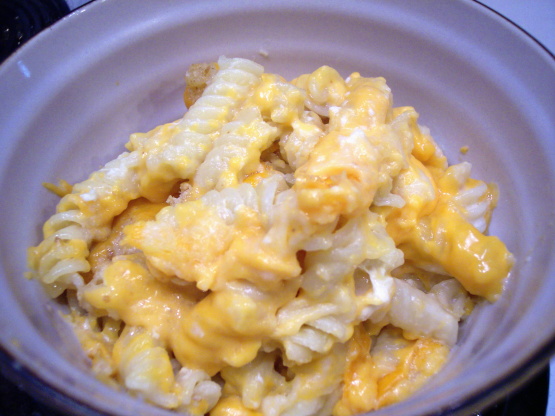 If you are not a garlic-lover then you may omit, I like to add in a pinch or so of cayenne pepper also, for best flavor use a sharp cheddar cheese for this such as Kraft Cracker Barrel Sharp Cheddar Cheese and for a main meal add in 2 cups chopped cooked ham or cooked chicken.

I really enjoyed this recipe I used fresh minced garlic and sauteed some onions instead of using powder .The mac n' cheese turned out very tasty and delicious. I also used twists instead of elbows and it made a nice side dish. Thanks for sharing.
Set oven to 350 degrees F.
Grease a 13 x 9-inch baking dish.
Cook the macaroni in boiling water until al dente (do not cook until very soft) drain, then place into a bowl.
Place the milk, flour, onion salt and garlic powder in a 1-quart jar; cover tightly and shake vigorously for 1 minute; pour the mixture over the macaroni and add in 3-1/2 cups shredded cheddar cheese; mix thoroughly to combine, then spread into the baking dish.
Sprinkle with breadcrumbs then remaining 1 cup of cheddar cheese.
Drizzle 1/4 cup melted butter or margarine over the top.
Bake uncovered for 45 minutes or until golden brown.