Easy Parmesan Pasta With Asparagus
Meekocu2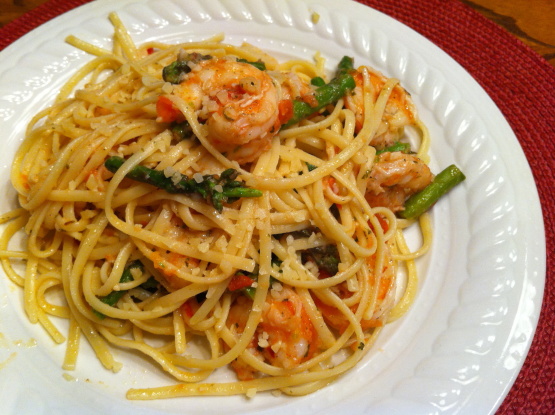 I actually came up with this recipe to use up some left-over steamed asparagus I had in the fridge. Feel free to add any other veggie of your choice or combination of veggies. Broccoli would work well, as would peas. Update...made this the other day and added uncooked shrimp in the beginning. That was pretty awesome!

Fantastic! My family enjoyed this very much. What a great way to use up leftover asparagus. To satisfy DD, I only used 1/4 tsp of the crushed red peppers. I added sun-dried tomatoes & subbed chopped fresh parsley (maybe 1-2 Tbs) because I happened to have it on hand. I only used approx. 2 Tbs butter and, for the oil, I just used some from the sun-dried tomatoes bottle. It smelled heavenly while cooking and it didn't disappoint in the taste department either. I would definitely consider making this again and/or trying with different veggies, too. Thanks for the recipe--great dish that could easily be adapted for a meal or shine as a side!
In a large skillet, add olive oil, butter, crushed red pepper, italian seasoning, parsley, and garlic. Cook over low heat until garlic is soft, about 5 minutes. Do not burn garlic.
When the garlic is soft, add the asparagus and tomato.
Stir until combined.
Add cooked pasta and parmesan.
Mix well.
Salt and pepper to taste.
Serve immediately.