Easy Microwave Hard Christmas Rock Candy
CIndytc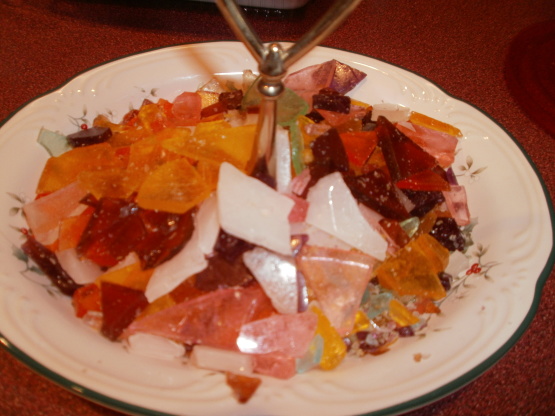 This is a recipe I have perfected over the years...and it is so darn easy and fast compared to the old "boil to hard ball stage recipes"...I just made 3 different kinds of flavors and it takes about 10 minutes per flavor....follow the directions exactly...and be careful and use oven mits.. UPDATE: Microwaves vary so be sure to get a good boil especially the first time. In my new microwave it takes 4 minutes each step in microwave. Also the flavoring you should use the whole 1 dram.

I never use the microwave because it's too hard to control the temperature and ruin kitchenware. It's so much easier using a pot and candy thermometer. To answer someone as to why their candy never set up, it's because the syrup didn't get hot enough, to hard boil/crack stage. Using a microwave isn't ideal for making hard candy unless you know the stages and can tell by dropping a bead into water and testing. Also, it's better to add a little corn starch to the powdered sugar for coating after the hard candy has cooled and before storing. I just put it all in a large baggie and gently shake, then store in a clean dry container in a cool place.
Use a good heavy glass bowl such as a pyrex brand. Grease a 11 X 15 inch jelly roll pan. Mix sugar and corn syrup into microwave safe glass bowl. Cover with plastic wrap such as Saran Wrap tightly.
Microwave on high for 3 minutes. Take out carefully, remove plastic wrap and stir. Put on a new piece of plastic wrap and microwave another 3 minutes. Take out carefully and stir again. Put on another new piece of plastic wrap and microwave another 3 minutes -- Take out again, remove plastic wrap, add oil carefully and food coloring if using and stir -- pour into your greased jelly roll pan and spread out onto sheet -- you can sprinkle powdered sugar over top if desired -- place in a cool place to harden -- after it hardens break up into pieces and store in airtight container -- Enjoy -- .