Janni402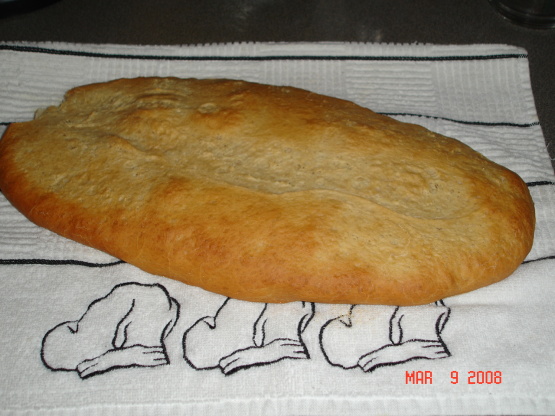 This is my family's favorite bread when we decide to have paninis for lunch !!!

Yum! This was easy to make. I don't have a bread machine so I kneaded it by hand. After allowing it to rise, the loaf was a huge blob that I had to reshape into a loaf before baking. I sprinkled the top with garlic powder and kosher salt. Planning on using it to make garlic bread later tonight but had to sneak a piece- yum!!
Place all the ingredients in bread machine pan. Process on dough setting.
At the end of the cycle, remove dough from machine; place it on parchment paper. Punch down dough. Shape dough into baguete-shaped loaf about 12 inches long.
Place loaf on cornmeal-coated cookie sheet and with sharp knife, make 1 deep lenghtwise slash in top of loaf. Cover; let rise in warm place for about 1 hour.
Brush loaf with egg white, if desired. Heat oven to 375º F. Bake loaf for 25 to 35 minutes.
Variation: You can add 1 tsp dark sesame oil to the recipe if you desire. Sprinkle the loaf with same sesame seeds before putting it in the oven.