Parsley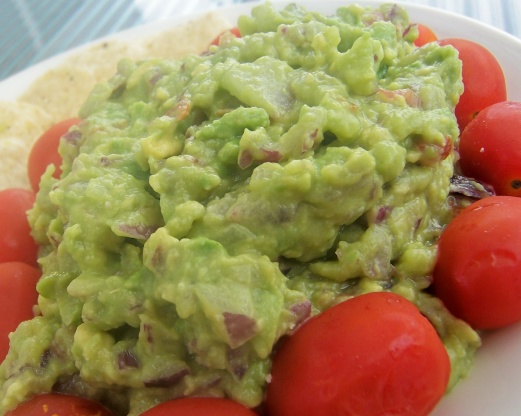 5 minutes with 7 ingredients (ones you usually have on hand!) to make a FANTASTIC munchie!! My "picky" mother-in-law won't eat any guacamole other than this! A GREAT condiment for my Chicken Chimichangas that's posted here!! ** NOTE:For the onion...use 1-2 thin SLICES of onion...NOT THE WHOLE onion! Recipezaar won't let me post it on the ingredients that way! =) ENJOY!!

I make it as written and then add a half teaspoon of cumin, just for some extra flavor depth.
Slice avacodos in 1/2, remove seeds.
Remove flesh into a bowl.
Add garlic.
Add tomatoes.
Add lime juice.
Add onion.
Add salt.
Mash all together with a fork.
Open bag of Tostitos corn tortilla chips or "scoops".
ENJOY!
Adjust seasonings to taste. I don't measure when I make this I just "dump" and go.
You may reserve the seed(s) and place in bowl AFTER mixed. Cover tightly with plastic wrap and refridgerate if not using immediately. The seeds help keep the avacodo from turning brown.