Easy Greek-seasoned Steak With Mushrooms & Tomatoes
Susie D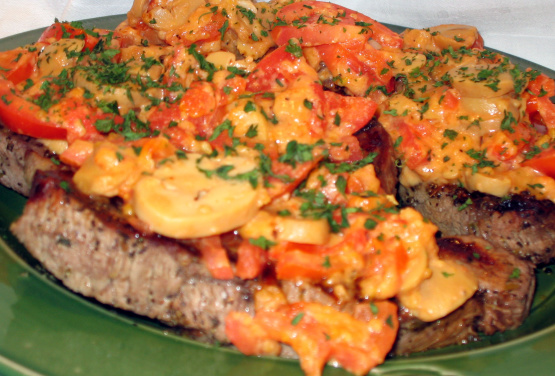 From the recipe prep table at the local grocery store - they were handing out samples of this, oh my! Easy, tasty, and colorful...would be great served with grilled eggplant and foccacia bread or bruschetta for that Mediterranean flair.

Very good dish and easy to make. I'm not fond of mushrooms but the flavors melded wonderfully (I ate and enoyed every last mushroom on my plate)! I used two ripe tomatoes from our garden instead of the cherry tomatoes. This is a keeper. : )
Combine Greek seasoning and pepper.
Rub both sides of steaks with seasoning mix; set aside.
Heat charcoal 30 min (until coals are covered with light ash) or heat gas grill on High for 10 min with lid closed (alternatively, preheat oven to broil).
Meanwhile, heat oil in lg skillet over medium-high heat.
Add mushrooms and garlic; cook and stir 8-10 min or until mushrooms are tender.
Add tomatoes, toss, and cook 2 minutes more.
Remove skillet from heat, stir in cheese and season to taste.
Cover skillet to keep warm; set aside.
Grill steaks 4" above medium heat for 5-7 min/side or until meat thermometer reads 140F for medium-rare or 155F for medium.
Let steaks stand 2 min; serve topped with tomato/mushroom mixture.