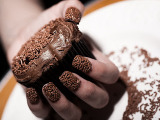 I have been a silent observer for years, this is my first recipe posting--it was just too good not to share! Easy and delicious-two of my main criteria for a KEEPER!
Directions
Preheat the oven to 400 degrees.
Line a large shallow dish with foil and arrange the fillets skin side down.
Mix the cheese, mayonaise, lemon juice, capers, garlic powder and dried dill in a small bowl.
Spoon the mayonaise mixture over the fillets.
Bake 25 to 30 minutes or until the fillets flake easily when tested with a fork.
Serve immediately.
Most Helpful
Very good. Made as stated except didn't have dill or capers.
I made this for company and will make this again. Very easy and tasty!
Very tasty and hardly any cleanup! I loved the capers and it was just the right amount. Cooking time was right on(I cooked 25 minutes). Thanks!