PaulaG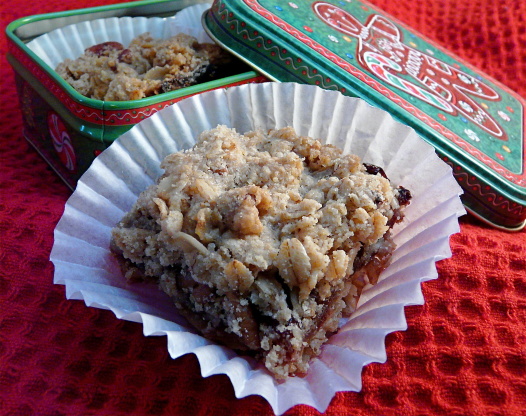 My MIL's easy, no fail date squares...Make an extra batch of the date jam its good on its own...over bagels or toast. If your date jam is a little thick. Add a little extra water to thin it out, until it is the consistency that you like. Becareful not to make it too thin.

I remember having tried date squares at a Christmas get together and looked forward to making this recipe. Baby K, you were right, the jam-like date mixture would be good on bagels. I came up with some difficulty when spreading it in my 9x13 pan. There just wasn't enough. I pushed everything over to one side and continued with the recipe. If you are considering making this lovely recipe I recommend using a 9x9 pan.
Preheat oven to 350 degrees.
Date Jam
Combine dates, sugar, water and vanilla in saucepan and bring to a boil.
Simmer 5 minutes, until mixture resembles a thick paste.
Cool completely
Oatmeal Layer
Combine flour, oats, sugar, nuts and salt in mixing bowl.
Cut in butter.
Reserve 2 cups of this mixture for topping.
Press remaining mixture into bottom of greased 9 x 9" pan.
Spread cooled date jam over the bottom layer and sprinkle reserved oatmeal mixture evenly over top.
Bake 25- 33 minute.
Cool completely then cut into squares.