CoffeeB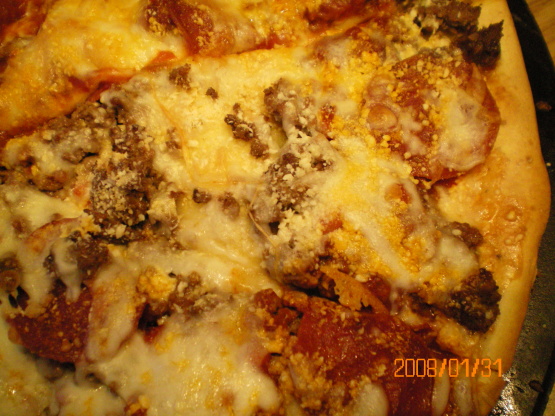 From the back of a Pillsbury flour bag - a no knead/no toss pizza crust that even those of us dough challenged cooks can make. Even though not mentioned in the ingredients, I think it needs some minced garlic.

Top Review by DanaJo
Maybe it's because I'm used to really good St. Louis style pizza but I really didn't care for this pizza crust. It was a quick fix for my kids request for pizza . They liked it okay but it just wasn't our style, not thick, not thin, just kinda there. I'll keep it for maybe a quick fix for babysitter night or late night slumber party munchie but I don't think I'll cook as a meal again.
Heat oven to 425º. Grease a 12-inch pizza pan; lightly sprinkle with cornmeal.
In a skillet, brown the ground beef; drain off fat.
In a medium bowl, combine flour, Italian seasoning, salt, pepper, milk & eggs; blend until smooth.
Pour batter in pizza pan, tilting to cover bottom evenly. Spread beef over batter. Top with mushrooms & onions.
Bake on lowest oven rack for 20-25 minutes or until golden brown.
Remove from oven; pour pizza sauce evenly on top & sprinkle with cheese. Return to oven for another 7-12 minutes.