twissis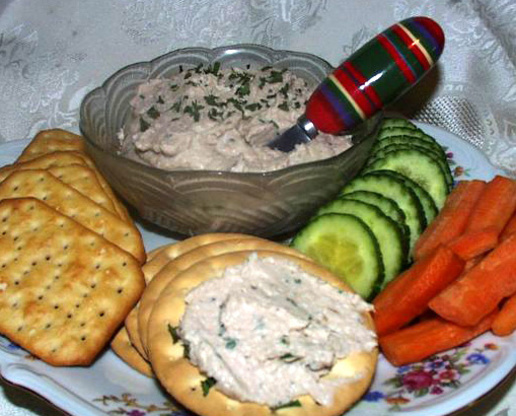 There are so many tuna spread recipes that I thought long and hard about posting this one. This is a very good spread to serve at a party with crisp crackers or as a dip for fresh veggies. It is also great as a sandwich filling.

I made a 2/3 recipe as written, adding a bit of freshly snipped chives to the mix & a sprinkle of parsley on top, mostly for color. Tuna is only available here in 6 oz cans (pink color), water or oil packed. I used my stick-blender to whiz the tuna mix & folded in the chives. After longer refrigeration than stated, the mix was not firm enough to turn out in a mold form. All that said, it was surprisingly tasty w/the crackers & veggies. DH loved it & ate the leftovers for breakfast today. I felt it needed more zip & think capers whizzed in the mix might be 1 option. I also may sub low-fat cream cheese for the sour cream to help firm the mix more. This is low-cal, low-fat & so worth making it the best it can be ... for us. Thx for sharing this recipe for a new & healthy snack food w/us. :-)
Put all ingredients in a blender or food processor.
Cover and blend until smooth.
Line a 2-cup metal bowl or mold with plastic wrap and place tuna mixture in bowl.
Cover and refrigerate 2 hours.
Unmold onto serving plate, carefully removing plastic wrap.