Easy Cheesy Corn Dip (Mild)

My sister-in-law gave me this resume about 10 years ago and it's a hit in my household. Great to serve to kids and adults alike and is perfect (and cheap) for potlucks! This version is VERY mild.
Directions
Mix together the sour cream and mayo, then add the red pepper flakes, onion flakes and cumin.
Then add the cheese and the corn and stir until well coated.
Refrigerate overnight so the flavors blend.
Serve with Frito's Scoops.
Most Helpful
This was VERY good. However; I did not use the full 3 TBS of cumin, it seemed like too much for the quantity of dip this made. I added it a bit at a time and tasted as I went, I ended up using approximately 1.5 TBS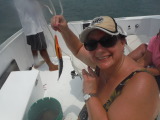 Absolutely brilliant!! This was so easy to put together and the flavour was just fantastic. I sent half of it over to my son and DIL's for the weekend and they also loved it. Very different to any other dip we've had before and I'm sure it'll be made over and over again. I did change 2 things. I only added 2 tablespoons of cumin as it's a spice that we don't really use. I thought the flavour was just perfect for us with this amount. I also found that I only needed to use half the quantity of corn. Made this for the Aussie/NZ Oct 2008 Swap.