Easy and Light Artichoke Stuffed Chicken
Drazen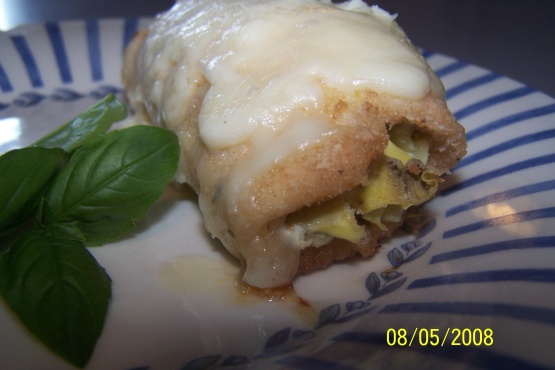 This recipe calls for lighter ingredients so it is not very heavy. It has the taste of a baked artichoke wrapped in lightly breaded chicken. I was trying to emulate the way the I like to eat my artichokes....breaded, covered with mozzarella cheese and dipped in butter. My family really enjoyed this one, hope you do too!
Preheat oven to 375 degress.
In a bowl, mix the artichoke hearts, cream cheese, butter and salt together and put aside.
Flatten out each breast by laying it on a cutting board, covering it with wax paper and using the flat, broad side of a meat tenderizer (or whatever is handy) gently pound the chicken on the side of the chicken where the skin is stronger (tighter looking).
After the breast is flattened, lightly coat it in the bread crumbs.
After the breast is coated, spread about 1/6 of the artichoke mixture on top of the breast.
Roll the breast over the mixture and secure it with a toothpick.
Repeat for the remaining breasts and put them all in a baking dish and cover it with aluminum foil.
Bake for 30 minutes covered,.
Uncover and bake f5 minutes longer.
Remove chicken from the oven and sprinkle the mozzarella cheese over each chicken breast.
Cook chicken about five minutes longer, until the cheese has melted.