Easy 5 Ingredient Vegetable Lasagna
Redsie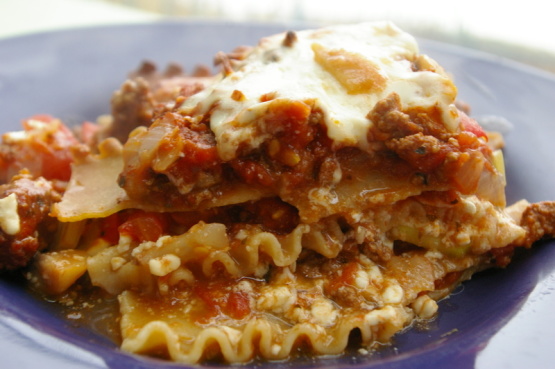 This wonderfully simple recipe comes from 'The Vegetarian 5 Ingredient Gourmet' by Nava Atlas.

Top Review by twixxy
Loved this recipe. I used more than 3 cups of steamed veggies because I wanted it to be very filling. I used zucchini, mushrooms, and broccoli. (steamed them in a covered, microwavable glass bowl with a smidge of water in the bottom, 3-4 minutes) Used a whole jar of Giada's pasta sauce in the recipe. I didn't have no-boil noodle on hand, so I did have to cook my noodles...a bit more on the al dente side. This is a good basic veggie lasagna that can be adapted to your veggie preference and it went together easily. :)
Preheat oven to 350°F.
Spread a thin layer of sauce on the bottom of a 9"x13" casserole.
Cover with a layer of noodles (3 or 4 noodles should be enough).
Place ricotta in a bowl and add about 1/4 cup of water, stirring until blended.
Spread 1/3 of this mixture over the pasta (you can use a cake spatula).
Spread 1/3 of the remaining pasta sauce over the cheese.
Spread 1/3 of the vegetables over the sauce.
Sprinkle 1/3 of the mozzarella over the veggies.
Repeat twice starting with the noodles and ending with the mozzarella.
Cover and bake until the noodles are tender (35 to 40 minutes).
Remove cover and bake 5 minutes until cheese starts to become golden.
Remove from oven and allow to stand for 5 minutes before cutting into squares.