East African Cardamom Tea
Outta Here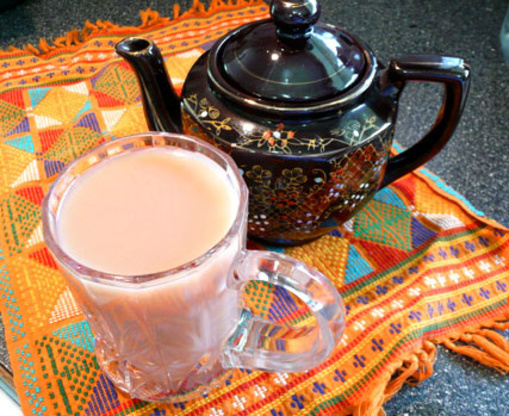 I just tried this tea and it was lovely with Earl Grey. Not liking the idea of ground cardamom in tea I switched the recipe to using the full pods and steeped them with my tea leaves. Originally posted for ZWT7, Africa. Modified from, www.congocookbook.com.

I crushed my cardamom pods with my mortar and then ground the seeds into a powder, I also floated a couple of whole pods in my tea pot. It had a very nice and exotic taste and a wonderful aroma. Made for the wonderful Witchin Kitchen team for ZWT #7.
cold water (three to six cups)

3 -4

teaspoons tea (Earl Grey, English Breakfast, Irish Breakfast, etc.)

6

green cardamom pods, bruised
milk (I use homemade almond milk to be dairy free)
In a saucepan or tea kettle heat the water to a near boil. Transfer the water to a teapot and add the tea leaves, and bruised cardamom pods, steep tea as normal.
Pour the tea into cups with sugar or honey, and milk to taste.
Stir, serve and enjoy!