Dunkin Donuts Coffee Coolatta
Annacia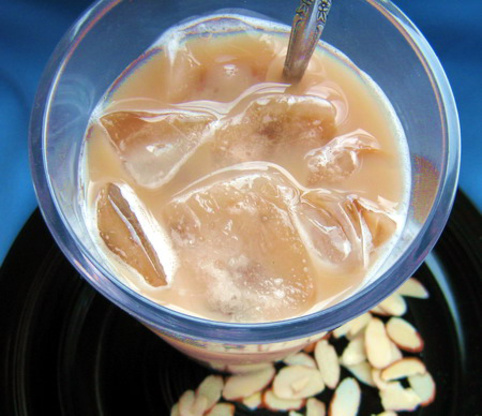 Due to reviews I made the chocolate and hazelnut syrups optional, but if you don't add either you may have to add some extra vanilla. Torani Hazelnut syrup is recommended Todd Wilbur- TSR

Tasty! I used a mason jar & hand blender. What I did is put in the amount of coffee requested as water, drop 1 Tbls of instant coffee, shake the mason jar, add 3 Tbls sugar, add the milk, but trade out 1/4 cup of it for coffee cream. I then put in the ice & blended. Yummy. Next time I'll reduce the milk/cream amount by 1/4 cup because I think it overpowered the coffee flavor too much. The almond extract really helped the flavor & I used the chocolate, but didn't have hazelnut syrup. Might add some kahlua next time.
1 1⁄4 cups strong coffee, cooled

1

cup milk

5

tablespoons sugar

2

tablespoons chocolate syrup (optional)

1

tablespoon hazelnut syrup (optional)

1

teaspoon vanilla extract
1⁄4 teaspoon almond extract
2 1⁄2 cups ice
Brew strong coffee by brewing twice the amount required by your coffee maker - Chill.
Combine all ingredients except ice in blender and blend for 2 minutes on low to blend sugar.
Add ice, blend on high until ice is dissolved and drink is smooth.