Dry Rub for Chicken or Turkey
Rita1652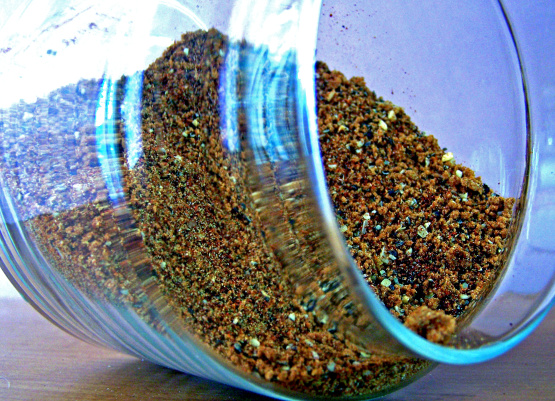 This makes about 3/4 cup of the most wonderful spice blend, I have used it many times in the past --- the amounts listed is enough to coat one large roasting chicken, 1 small turkey or 2-3 small whole fryer chickens, or 12-14 pieces of chicken, if you like lots of heat then increase the cayenne, you will love this! :)

I made this last night, applied to 14 chicken thighs, let them "marinate" overnight, and grilled. They turned out surprisingly delicious. However, I'm removing 1 star, because I think the recipe can be improved, as detailed below. Too Much Sugar 1/4c (4T) of brown sugar is a huge amount of sugar, IMO. If you want sweet chicken, go for it, but I like my chicken more savory. I reduced the amount to 1T for my first batch, and it still seemed a little sweet. I'll probably reduce to 1t next time. Why Chili Powder? This rub already lists amounts for paprika, cumin, cayenne, garlic powder, black pepper, and salt ? 6 ingredients common in chili powders. It would be better to list the individual spices, rather than having the unknown quantities in a chili powder. If you just add individual measurements for oregano and onion powder (and bump up the paprika, etc.), you could remove the chili powder and have a more consistently reproducible recipe. Nitpicks ? 3t is 1T. I don't see a reason to list 3t of mustard powder, instead of just 1T. Maybe I'm missing something. ? It would be great to list the type of salt. 2t of fine/table salt is about 2.5t of (coarse) kosher salt, a 25% increase. I guess it's assumed to be table salt if a type is not listed, but I used kosher salt and found the chicken well seasoned. 2t of table salt might be too salty. However, if you use the full amount of sugar, you might need the extra salt to counter it. ? No fat. I know this is a dry rub, but some of these spices are fat soluble. It probably doesn't matter if dry-brining a whole bird (or fatty pieces like thighs), but if you're applying this to skinless breasts, it's probably wise to add a ~2T oil and make it more of a paste. Spices like paprika and (I think oregano in the chili powder) will release more of their volatile compounds (i.e., more flavor) in the presence of fat. Anyway, except for the excessive sugar (IMO), this is a great rub and could be damn near perfect with some tweak. It surprised me with how delicious it is, and my picky wife and even pickier 2 year old both loved the results. Good job.
Mix all spice ingredients together.
Rub onto chicken (use as much of the rub as desired, use lots or use a little.
Cover the chicken then place in the refrigerator for 6-24 hours.
Grill as desired.