Double Chocolate Mint Bars
Ms B.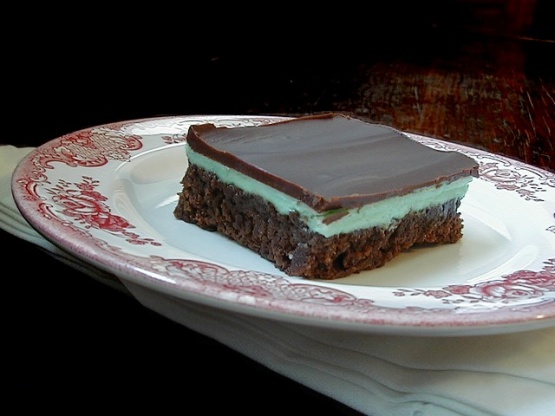 A delicious mint flavored treat. Betcha can't eat just one...Double Chocolate Mint Bars(from Mr. Food's Favorite Cookies)

This recipe was excellent. It was easy to follow, no-mess, and gives you A LOT of brownies as a result. I made a batch and contributed them to a bake sale, and they were the first baked good to sell out. Everybody wanted one. Also, my dad has diabetes and rarely EVER indulges in rich or sweet foods, but he ate 2 last night. My conclusion: total success.
Preheat the oven to 350F.
In a large bowl, combine the Chocolate Bottom ingredients and mix until smooth.
Pour mixture into greased 13x9" baking pan and bake for 25 to 30 minutes, or until a wooden pick inserted in center comes out clean.
Cool completely.
In a large bowl, combine Mint Cream Layer ingredients and beat until smooth.
Spread over the cooled bottom layer.
Refrigerate for at least one hour.
Place the Chocolate Topping ingredients in a small microwaveable bowl and melt on high power in the microwave.
Stir with a wooden spoon until blended and smooth.
Spread over the cooled mint cream layer.
Refrigerate for one hour, then serve.
ENJOY!
NOTE: These must be kept refrigerated or the top layers will melt.