Doggie Bacon Chicken Layer Cake
PA-Dave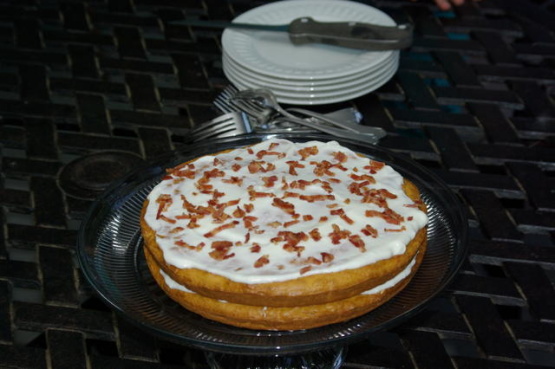 This recipe makes a real layer cake! Chicken, bacon and yogurt provide aromas that drive dogs crazy for this cake.
Substituted 2 baby-food jars of chicken -- probably could have used more. Cake came out O.K., but didn't rise (so had trouble cooking it through). Nonetheless, it was a big hit with the dog. I tried a bite: it was edible, but not very good. Maybe if the grease from cooking the chicken and bacon was reserved and used for the corn oil this would have a better flavor.
Generously grease and flour two 8" round cake pans; set aside.
Combine flour and baking powder; set aside. In a mixing bowl, beat softened margarine until smooth.
Add eggs and corn oil; mix well.
Add strained chicken and shredded carrots; mix until smooth.
Add flour mixture and mix thoroughly.
Pour batter into the 2 prepared 8" cake pans.
Bake at 325°F for 60 minutes.
Let cool for a few minutes before removing from pans.
Cool completely on wire racks.
Place one layer on a serving plate and spread yogurt over top. Place second layer on top, then spread yogurt on top and sides of entire cake. Sprinkle crumbled bacon or bits of jerky strips over top. Use "Pupperoni" sticks for candles.