Pam-I-Am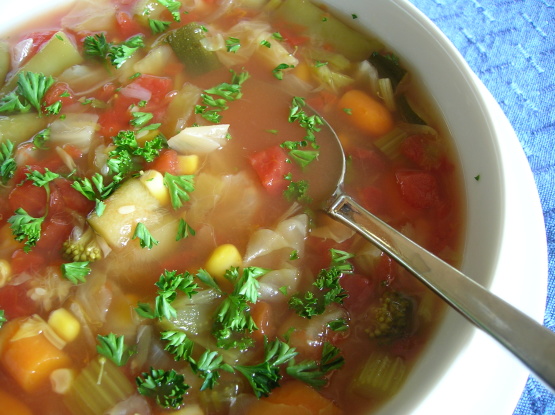 Alternative "diet soup" that does not include cabbage. Recipe is from Good Housekeeping. To retain freshness and nutrients keep a 2 day supply of Basic Soup in the refrigerator. Pack remaining soup in 3 cup portions in airtight containers, leaving some room for expansion. Freeze.

Great! I love all these veggies. I even added a few frozen peas and a cup each of turnip and rutabaga. I didn't have leeks, so I used onion and that worked out good. I also added 2 cans of beef broth and used beef boullion, just because my husband will eat it better if it's got a beefy taste. It has a lot of veggie flavor, we really liked it! Thanks Jo Ann, for another keeper!
Coat pan with nonstick cooking spray.
Over medium high heat add carrots, celery, onions, and garlic.
Cook, stirring occasionally, 5 minutes.
Stir in tomatoes with their liquid, breaking up tomatoes with side of spoon.
Add cauliflower, remaining ingredients and 12 cups of water.
Heat to boiling over high heat, stirring occasionally.
Reduce heat to low, cover and simmer, stirring occasionally, 15 minutes or until vegetables become tender.
Add more salt and pepper if desired.