Devil's Chocolate Cookie Crinkles
Lyreen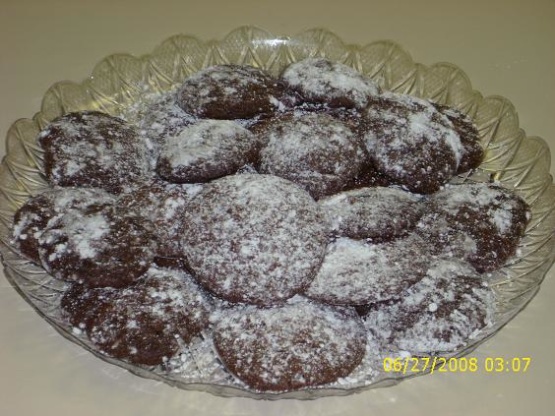 This is a delicious chocolate cookie recipe for those chocoholics out there! It is simple because you use a chocolate cake mix to make it all come together!

Very simple recipe, a little on the rich side for me, but tasty! First batch of cookies were not chilled before baking, and they turned out a bit flatter. Second batch I chilled for about 30min before baking and they turned out nicely puffy with deeper cracked texture. I will be eager to try this recipe again with less sugar, and with raspberries! Yum!
Preheat oven to 375°F.
Grease cookie sheets.
Combine cake mix, eggs, oil and milk.
Stir until thoroughly blended.
Chill dough for 30 minutes.
Place confectioners" sugar in a separate bowl.
Drop rounded teaspoonfuls of dough into conf sugar.
Roll to coat and form balls.
Place 2 inches apart on cookie sheets.
Bake for 8-9 minutes or until set.
Cool 1 minute.