While I'm not a big fan of pot roast, it happens to be one of my husband's favorite meals, so after trying lots and lots of different recipes, I found this one in "The Silver Palate Cookbook" and I have to say, it's the best I've tried. This is the one pot roast I actually enjoy! You cook this one in the oven and, believe me, it's so much better this way versus on top of the stove. The comments in parenthesis are my own. Prep time is approximate.
3 1⁄2 lbs beef shoulder (preferred, but you can use your favorite cut of meat) or 3 1⁄2 lbs cross-rib roasts, rolled and tied (preferred, but you can use your favorite cut of meat)
1 teaspoon fresh ground black pepper, to taste
3 tablespoons best-quality olive oil
1 1⁄2-2 cups beef stock (I've used canned beef broth in a pinch)
2 cups dry red wine (don't skip the wine!)
1 bunch parsley, chopped fine ((I prefer about a half a bunch. Save the rest for garnish.)
1 teaspoon salt
7 whole cloves (this and the wine are what make it so good)
2 1⁄2 cups coarsely chopped yellow onions
2 cups peeled carrots, 1 inch chunks
8 medium potatoes, scrubbed and cut into thirds (I peel mine)
2 cups canned Italian plum tomatoes, with juice (gotta be Italian)
1 cup diced celery
Directions
Preheat oven to 350°F.
Rub roast with black pepper.
Heat olive oil in a heavy flameproof casserole or Dutch oven and sear roast for several minutes on each side, browning well.
Pour in stock and wine and add parsley, 1-teaspoon salt, 1-teaspoon black pepper and the whole cloves.
Stir in onions, carrots, potatoes, tomatoes and celery.
Liquid in casserole should just cover vegetables. Add additional beef stock if necessary.
Bring to a simmer on top of the stove, cover and bake in center of oven for 2 ½ hours.
Uncover and cook longer, until meat is tender, about 1-½ hours, basting frequently.
Transfer roast to a deep serving platter and arrange vegetables around it.
Spoon a bit of sauce over all and garnish the platter with parsley.
Pass additional sauce in a gravy boat.
Most Helpful
I don't usually rate something 5 stars unless it "WOWS" us....wasn't expecting any wows from pot roast, but this was excellent. I love the red wine in this recipe! I only used 3 cloves that's all I had.....Thanks for posting!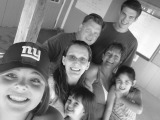 As far as pot roasts go, this is one of the best I have tried. I used a rump roast and the meat was not only tender, but very well flavored. Wish I had made rice to go with it because the remaining sauce would be excellent over it. Thanks for posting this one, Patrish. Sure to be repeated in my home.

BEST ROAST EVER!!! I make lots of roast. This one is now tops in my book. I modified the recipe to what I had: - Dry Red Wine; Merlot - Bunch Parsley; Dried Parsley - Whole Cloves; 2 Tbs. Minced Garlic (must have misread) - Potatoes; Whole Red Potators - Italian Plum Tomatoes; Canned Stewed Tomatoes & Italian Salad Dressing - No celery (mine was wilted) - I didn't have a caserole dish that would go from stovetop to oven. So, I used a pot for the oven work then transferred it all to a caserole dish for baking & covered with tin foil. The meat just fell apart into chunks & was so flavorful. Usually, I dislike recipes w/red wine but the ingredients counter acted each other and took out most of the acidic taste. It was just wonderful!!! I highly recommend this recipe. It's very easy. My whole family was dying in ecxtasy. Excellent for guests too! Thanks Patrish!!!