pines506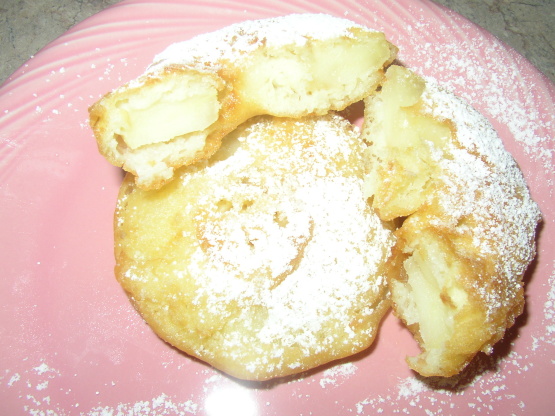 Another recipe from my neighbor Millie. She was a great cook and proud of her Swedish heritage. This one is not for the dieter in you!

Top Review by Saturn
These were so simple to make! My only problem with them was that the batter didn't get crispy. They were kinda soggy feeling. I had made the batter up the night before, so I thought that might be the problem. I made a new batch and it was still not getting crispy for me. They were crispy while I was taking them out of the oil, but once they sat for a second, they went soft. I was setting them on paper towels but it didn't seem to help at all. The flavour of the batter was divine though. My fiance got me to drop in the remaining amount to fry on it's own. The recipe was also easy to throw together. We used empire apples and I think that was wrong. Next time, I will use a harder apple. I am going to keep trying this until I get it right. Thanks for posting.
Beat together egg and milk.
Add flour, salt and baking powder mix well.
Heat oil in deep skillet until a drop of water spatters.
Sprinkle the apple rings with cinnamon.
Dip each ring in batter.
Fry in oil until golden brown and crisp on both sides.
Remove with a fork and drain on paper towel.
Sift powdered sugar over the top.
Serve warm with jelly or jam and cold whipped cream.