Deep, Dark, Delicious Oxtail Stew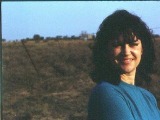 Although I know my American friends do not favour "the extra bits" of an animal, you haven't eaten a deeply satisfying meat stew until you've tasted oxtail! It's such a flavourful meat that it needs little in the way of seasonings. Oxtail comes neatly cut up and packaged, it's clean, and it's oh, so simple to cook. I made it over the weekend, and to us, it's a special treat -- being popular, it's an expensive meat cut.
Directions
Rinse the oxtail chunks and, using a large stewpot, put them in with the onion chunks and red wine. Bring to the boil.
Cover pot with a lid, turn heat to lowest. Check the liquid level now and then. You may need less than 2 cups red wine, or even more.
Let simmer slowly for as many hours as it needs, until the meat is tender and almost falling from the bones.
Pull pot off heat, and cool. If your kitchen is cool, leave it there until the next morning. If in doubt, keep in the fridge. Next day, scrape out the top white fat, and cut off some of the fattiest bits -- but oxtail is supposed to be rich, so do not try to remove much fat.
About an hour before dinner put the stewpot on the hob again and bring to a simmer. Add salt (taste!), the garlic, Worcestershire sauce, ground cloves and tomato ketchup.
Whisk either flour or gravy powder (Bisto) into the stew, and stir as well as you can until the sauce thickens slightly.
Add extra seasoning to taste, as suggested. But oxtail is so flavoursome it really does not not many extras.
Serve with sticky rice or boiled potatoes. One veggie such as green beans is fine, and grated carrot with orange juice is a great salad with this stew.
Most Helpful
Yum! I have made many a goulash using the Knorr Oxtail soup mixture...which by the way I can't locate any more...this broth tasted just like the sauce the soup mixture use to make...we loved it...the meat was so tender and juicy...I served it over spaetzle...I did cut the recipe in half...I felt that the cloves was way over powering that I added in some thyme and chopped parsley to even out the taste...it seemed to work...made for Fall 2012 PAC