Debesmanna or Semolina Blackcurrant Mousse
Liesma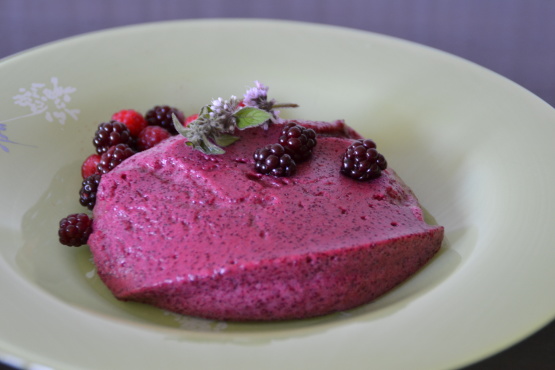 Manna in the sky – yes, that is a direct translation of the Latvian "debesmanna". Or you would call it Manna from the Heaven too. Because it tastes heavenly, sweet-and-sour and refreshing in a hot summer day! This recipe is pretty old and is mentioned in a cookbook with recipes of the early 20th century. And luckily, it's still made in several Northern European cultures. My grandmother made it with garden berries in season, often blackcurrants which give a pretty bright and concentrated flavour, so the mousse made by them tastes good with milk. You can use pureed apples for milder taste. The mousse has a soft and creamy texture after whipping, so it tastes great eaten immediately as well as after chilling when it becomes thicken. Beware, it's addictive!
Cook berries in water for about 8-10 minutes until they are soft.
Put the hot juice and berries through the sieve to press out of skins all the juice. Remove skins.
Bring together juice, sugar and spice in saucepan to boiling. Add semolina grain pouring in thin stream, stirring constantly and cooking for about 5 minutes, until thickened.
Let saucepan with the hot mousse cool in sink of cold water. When it is moderately warm, check the thickness. If it seems too liquid, stir in a pinch more semolina. If it seems too thick, pour in a bit of water. Then whip it with mixer until it becomes creamy and dark purple.
Serve it with milk immediately when it is still airy and creamy. Or allow the mousse chill in refrigerator for 3-4 hours until it becomes more thicken.