Prep 20 mins
Cook 45 mins
This is a recipe my mother made in the 1950's. I have tried many other date bar recipes but none compare to this one.
Directions
Combine the flour, soda, salt, oats, oleo, and sugar into a crumb-like mixture; spread 1/2 of mixture in a greased 13x9 pan.
Combine the filling ingredients together, except the vanilla.
Cook this mixture until thick.
Cool. Now add the vanilla.
Spread on crumb crust, put the other 1/2 of the oat mixture on top of the date mixture.
Bake at 350°F for 45 minutes.
Reviews
Most Helpful
Simply the best!! I put the filling ingredients in the blender and pureed them (I used whole pitted dates) then cooked it in the microwave. I did add 10 minutes to the baking time but they are by far the best date bars I have ever made.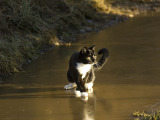 Never did get around to making these over the winter holidays, but they're definitely on my list in another 11 months! In the meantime, however, we're enjoying my first-time effort immensely ~ These are certainly some of the best tasting date bars I've ever had! Made them with my ol' favorite, Medjool dates, & they were particularly moist & chewy! And, as soon as I get another container of those dates, I'll be making these great tasties again! Definitely a keeper of a recipe! [Made & reviewed in Zaar Cookbook tag]
UPDATE: These froze quite well for me. They were a little chewier after taking them out of the freezer but still very pleasant treats! ORIGINAL REVIEW: These are perfect for my Christmas tray! They are so tasty without being so sweet like ever other dessert at Christmas time. The crust is wonderful and there is just the right amount of filling for my liking. I'm going to try to freeze some of the bars that I made tonight and see if they keep until Christmas. If not, then I will definitely be making these again in a few weeks! Thanks for posting one of my new favorite recipes!