Bayhill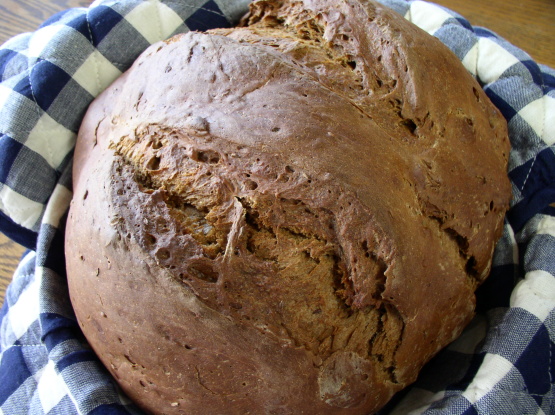 My absolute favorite recipe. This recipe produces a soft, full-loaf of bread, with a nice crust every time. Easy and delicious.
Delicious! Rye bread is one of our favorite breads, so I am always on the lookout for a good recipe. This recipe is definitely a winner! I made the dough in my bread maker on the "dough" cycle. When the cycle was finished, I removed the dough and formed it into a ball and put it on a greased baking dish. I did have to knead in some more bread flour first as the dough was too sticky to work with. I let the dough rise for about 30 minutes and then I slashed the top of the loaf a couple of times with a sharp knife. I baked it at 350 degrees for about 35 minutes. The result was a rustic loaf with a nice, soft interior. Thank you for sharing this wonderful recipe...it is definitely a keeper!! Made for ZWT 9 Scandinavia for The Apron String Travelers.
Add ingredients to your bread machine as directed. Mine specifies liquids first, yeast last. Set to standard (white) bread and Go. Enjoy!