Annacia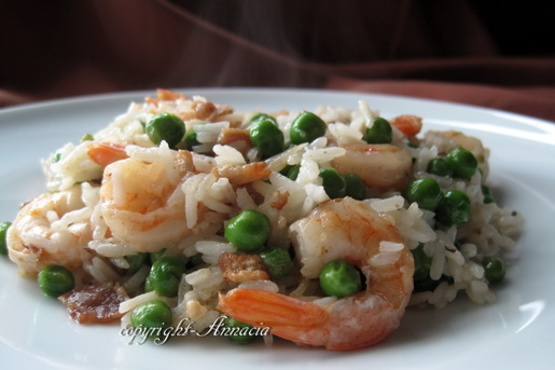 A delicious dish of Rice with Shrimp, Peas and Bacon. Can be served as a side dish or main course if you increase amounts. Fast and simple and sure to please. Hope you enjoy!

This is a great simple recipe for those days when you want something quick and good. I used orzo in place of the rice and scaled the recipe down for one serving. Thanks. Made for ZWT7~ Dinner & A Movie ~Part Two.
Cook peas until almost done, drain into a colander, and rinse under a light spray of lukewarm water. Allow to Drain.
Heat oil in pan.
Cut the 2 slices of bacon into cubes and place in the pan.
Cut the 2 scallions into thin rounds and add into pan.
Cook on medium heat for 10 minutes. Meanwhile, cook rice.
Fold sugar into cooked rice, add the peas and 1/2 pound of shelled cooked shrimp, bacon and scallions, fluff with a fork, and serve immediately.