Evie3234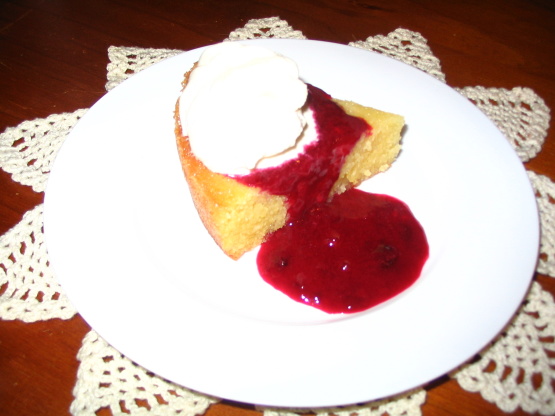 Delicious and very moist cake. It is a low rising cake and do serve with optional whipped cream and berries. Thanks to a co-worker for this simple but outstanding cake.

Loved it. I made my own almond meal using whole almonds so it had a bit of texture. Some friends reported it was a bit sweet but still enjoyed it. I thought the sweetness was fine. I used 1.5 tsp of almond essence which was quite strong. Next time I will used 1 tsp so the taste is more subtle.
125

g butter

1

cup sugar

3

eggs (lightly beaten)

1

cup ground almonds (100g)
1⁄4 cup plain flour

1 -2

teaspoon almond essence (depending how much you like almonds)
Cream butter and sugar until light and fluffy Add all other ingredients and mix well Spoon into 20cm round tin lined with baking paper.
Bake in a preheated oven 170 C- 180 C for 35- 40 mins or until done.
Allow to cool in tin for 5 mins before turning out.
When cool dust with icing sugar.
Serve with whipped cream and berries (optional).