Dad's Summertime Vegetable Salad
MA HIKER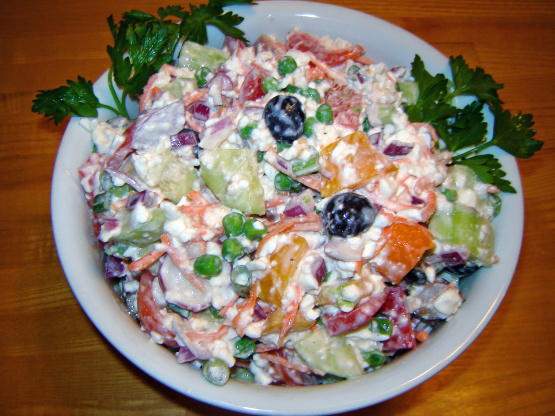 This is like my Dad's fruit salad only with vegetables. My brother and I loved the fruit salad so much that we also ate our vegetables cause Dad said it was the same. It's not, but just as good! I added the orange pepper.
24

ounces low fat cottage cheese (large curd)

4

tablespoons low-fat sour cream (*)

3

green onions, small dice (white and green parts)

2

beefsteak tomatoes, seeded, large dice
1⁄2 red pepper, seeded, large dice
1⁄2 yellow pepper, seeded, large dice
1⁄2 orange bell pepper, seeded, large dice

4

red radishes, medium to large size, thinly sliced

1

carrot, large, scrubbed and shredded

10

pitted black olives, large, halved

1

cup frozen peas, defrosted
1⁄2 red onion, small dice

2

teaspoons garlic powder
1⁄4 teaspoon sea salt
fresh ground pepper (to taste)
fresh parsley, chopped
*may add more for lighter consistency.
* can use plain yogurt but taste will be different.
Combine everything but parsley, gently, in large bowl.
Chill 1/2 hours.
Serve with topping of parsley.