Cutie Orange Cup Potato Salad
Yosshi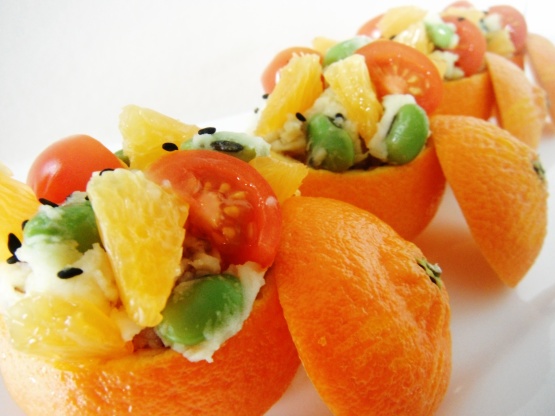 Ready, Set, Cook! Special Edition Contest Entry. I made this salad for my home party. Every one like it!
Slice the tops off of the oranges then peel zest, Using a paring or grapefruit knife and spoon, scoop out pulp from oranges, leaving a shell. Just be careful not to rip. Separate orange sections; transfer to a small bowl.
Heat medium sauce pan, stir Simply Potatoes and milk until smooth; spoon over carrots and Alfredo sauce mixture. Bake until edges are bubbly. Sprinkle with remaining goat cheese; bake 1 to 2 minutes or until cheese is melted.
Remove from heat to cool down, then add edamame, sesame seeds, salt and pepper then mix well. After add tomato and orange segments then stir gently.
Place the orange cups on a serving platter. Fill the cups with potato salad. Put orange tops on side and serve it. Squeeze top to drizzle fresh orange juice on potato salad before eat.