Curried Pumpkin and Sweet Potato Soup
Laleh V.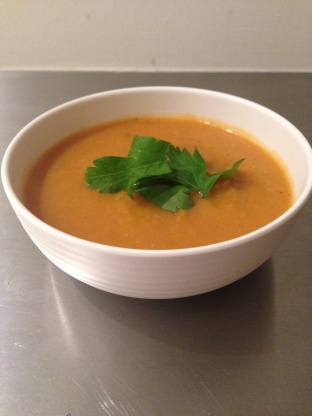 This is good enough for a dinner party though you don't have to wait for company to make this delicious soup. I generally don't care for things made with pumpkin but I love this! I got this from a heart healthy recipe book but I can't remember the name.
In saucepan, heat oil; saute garlic and onion until softened, approximately 5 minutes.
add stock, sweet potatoes, pumpkin, curry powder, coriander, honey and ginger.
reduce heat, cover and simmer until potatoes are tender, approximately 20-30 min (depends are how small you cut your pototoes.
Puree in food processor or with immersion blender until smooth.
return to saucepan, if using food processor; stir in milk until blended.