Curried Chickpea Croquettes With Yogurt Sauce
Maggie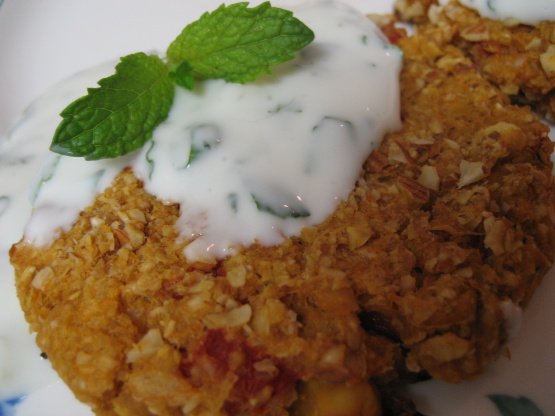 From the IGA Supermarket chain. It's too bad I can't post the picture because it looks really nice. Apparently two patties makes one serving, making it four servings for four people, especially with a complete meal. What I plan to do below is write that it makes eight patties, and allow everyone here to decide if they want to serve one or two patties per person. Because of the hot curry paste this is really for people who like their recipes hot.

Top Review by Maggie
These were really very good, and the yogurt sauce alone is worth keeping to accompany other spicy dishes as well because the flavors are such a nice cooling contrast to the spiciness. I used closer to just over 1/4 cup of almonds because I was trying to shave off some calories, and next time I'll be careful not to cut my onion to the point that it's watery (my own silly fault) because it made it more difficult to shape the croquettes. Still, they stayed together nicely after baking. Delicious! Thank you for sharing this.
In a small bowl, blend yogurt, mint, and garlic. Cover and refrigerate for 30 minutes.
Season with salt and pepper.
Preheat oven to 375°F.
In a large bowl, mix chickpeas, onion, curry paste, and egg. Mash the mixture with a potato masher until blended but not smooth.
Add red peppers and oat bran, and season with salt and pepper to taste. Mix with a fork until ingredients are well combined.
Shape mixture into 8 patties and coat with chopped almonds.
Place patties on a baking sheet lined with parchment paper. Bake in the oven for 30 minutes, turning patties halfway through the cooking.
Place each croquette on a bed of salad greens and serve with yougurt sauce.
Note: For a meal, serve each person 2 croquettes with buttered linguini, broccoli florets and yogurt sauce (this is just a suggestion, and you can always do something similar along this line).