After 2 years of begging, my roommate finally wrote this recipe down for me. It was a hit at our housewarming!
709.77 ml cooked chicken breasts, shredded (I use 2 12.5 oz. cans of chunk chicken breasts and drain)
354.88 ml celery, chopped
118.29 ml mayonnaise
118.29 ml ranch salad dressing
7.39 ml garlic powder (or more to taste)
14.79 ml curry powder (or more to taste)
56.69 g package slivered almonds
Directions
Combine all ingredients in a large bowl and mix well.
Serve as a sandwich on croissants or over mixed greens.
Reviews
Most Helpful
I am so delighted that I found this recipe because it really is fantastic! I made this exactly as posted, and it was absolutely perfect! I will be enjoying this a lot. Thanks for sharing!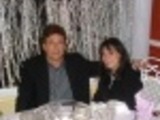 Made these for sandwiches for lunch today . Recipe made as posted without changes, except made for 2. Both DS and I enjoyed. Has a nice little kick with the curry powder, but VERY much enjoyed. Made for PRMR tag.

Couldn't get any easier or tastier than this if you like curry, which we do! I followed it exactly except I cut it down to 2 of us. Great way to use up leftover chicken. Thanks!