Culto a La Vida (Cult of Life), a Rum Cocktail
Boomette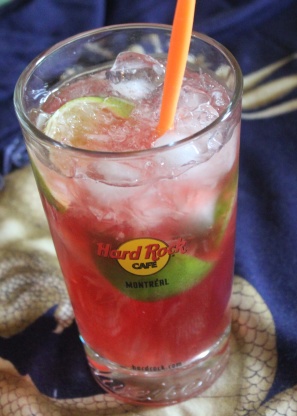 Dark rum is created by a longer aging process and different casks from that of light-coloured, drier white rums. Look for words like "aged" or "anejo"" on the bottle. The spirit inside will have rich and layered flavours of vanilla and caramel, perhaps fresh fruit or spice, usually with an undertone of the sugar cane that creates it. This recipe was found on the Toronto Star website.

Mm Mm Good! I love Cosmo's, and this was really just a rum twist on that yummy drink. It was really pretty in the glass and I know I'll be making many more of these on our warm and balmy evenings! Thanks for posting! Gourmet Goddesses ZWT9. UPDATE February 2014. Still one of my all-time favorite cocktails! Wish I could give it 10 stars. Just updating to say that the better quality rum you use, the better it will taste. This afternoons version has a 10 year anejo and the drink is even better than ever. That caramelly-oak flavor shines right through and yet the drink remains tart and refreshing. Yum!!!
Squeeze limes into a cocktail shaker, drop in lime wedges. and stir.
Add rum, simple syrup and cranberry juice.
Shake well; strain into glass filled with fresh ice.