Culinary Quest Chive-Corn Muffins
Prep 10 mins
Cook 20 mins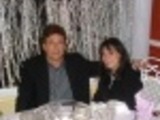 Posted for the Cornbread is King Challenge
Directions
Preheat oven to 400 degrees and spray 12 muffin-pan cups (about 2-1/4 inch size) with nonstick cooking spray.
Combine cornmeal, flour, baking powder, sugar and salt in a bowl and set aside.
Combine milk, egg, chives, and butter in a bowl; pour all at once into the cornmeal mixture, stirring with a fork only until blended.
Spoon about 2 T. of the batter into each muffin cup; bake until lightly golden - about 20 minutes. Serve warm.
Reviews
Most Helpful
Really lovely cornbread muffins. I went just a bit heavier on the chives as mine are growing insanely this year. I think they are planning a coup to take over the yard! But I digress, the recipe took just a few mins to put together and they are delicious. Perfect with grilled chicken and a light fruit salad. Well done Jackie. Made for Cornbread is King,Part 2.

Delicious muffins. These were simple to make and very tasty. The directions were clear and well written. Thanks Jackie for sharing your great creation. Made for Cornbread is King (Part 2).

Wonderful easy recipe for cornbread muffins!!! I made these as written with the exception of using melted butter for the oil. Served these with a crock pot pinto bean and ham hock recipe, yummy!!! I liked that these weren't very sweet like most cornbread recipes. Thanks for sharing/making this recipe. Made for CQ 2014.