Cube Steak With Cuban Lime Mojo
twissis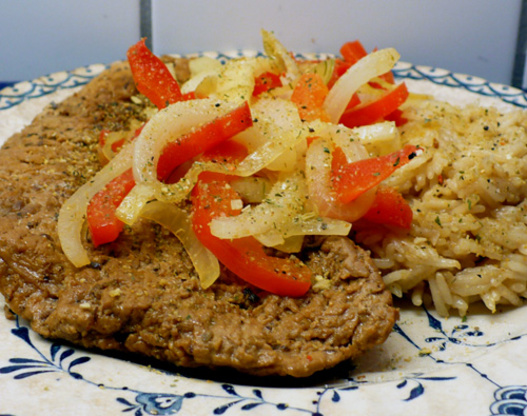 Cube steak is marinated in a garlicky citrus-lime sauce for a short time, then quickly braised. Serve with boiled potato and choice of vegetable, if desired.

I made this tonight for my meat-loving husband, who said it was quite delicious! It rates highly with me for being so easy to put together; I love that you can get fun, tropical flavor with everyday ingredients. Thanks for posting! Made for ZWT 9, Gourmet Goddesses.
Smash and peel garlic and place in a mortar; sprinkle with salt and let sit for 5 minutes to soften the garlic.
Use the pestle to form the garlic and salt to a paste; in a small bowl, combine the garlic paste, oregano, cumin, pepper, lime juice and orange juice.
Place the steaks in a single layer in a baking dish; pour the marinade over and let sit about 20 minutes.
Heat a skillet over high heat, add oil, and cook the onions and peppers, while stirring, until softened, anout 2 minutes; remove to a bowl.
Place steaks into the skillet and cook for 2 minutes, then flip and cook another 2 minutes.
You will probably have to do this in two batches.
Return the onions and peppers, along with the steaks, to the skillet, cover, and cook another minute.
Place steaks on a serving plate covered with the onions and peppers.
If desired, you can cook the marinade for a couple of minutes and spoon that over the steaks.