Crusty Garlic Grilled Cheese and Tomato Sandwich
VickyJ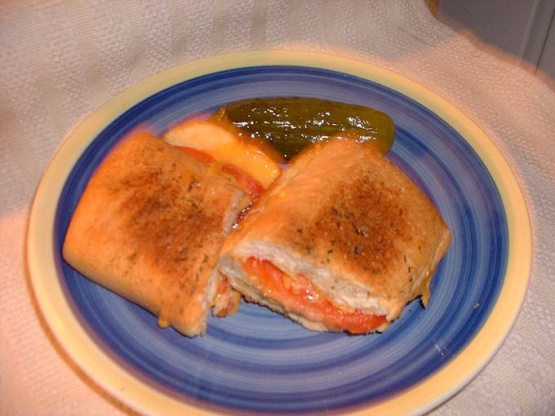 I threw this together for lunch, and it was great! I bought some really good french rolls to make this comfort sandwich. I hope you enjoy it!

I won't post a rating until I try this again using better bread and tastier cheese. I used plain white bread which I coated with a light layer of garlic powder and Italian herbs, organic butter, vine-ripened tomatoes, extra tasty vegetarian cheese (not my favourite one) and I added a little sea salt and freshly cracked black pepper. I always toast sandwiches on a low setting so the cheese will melt before the outside cooks, and had no trouble with the outside burning before the inside was done. As made above, I'd give it a 4.
Butter bottom and top of roll.
Sprinkle with garlic powder and Italian seasoning.
Put seasoned side down in hot skillet. Don't walk away, as it will brown quickly.
Layer one side of roll with cheese and sliced tomato and other side with other slice of cheese.
Watch to see when the cheese starts to melt. This doesn't take long.
Flip the just cheese side on top of the tomato side and slide out onto plate. Cut in half.