David04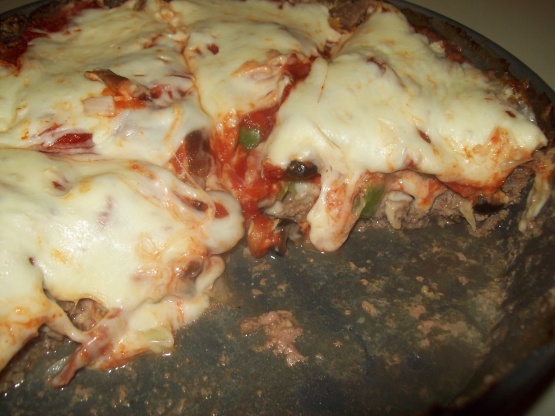 Since I am not supposed to have bread crust, this allows me to have my pizza and eat it too.

This was OK for us. We thought the meat could have used more seasoning and it was really hard to get all the grease out of the pan. Next time I think I would cook the meat without the "toppings", drain the grease and then add the toppings and cook for about five minutes. I think this way it would be easier to drain. Made for Spring PAC 2011.
1

lb extra lean ground beef
1⁄3 cup breadcrumbs, plain, grated, dry
1⁄2 teaspoon dried oregano
1⁄4 teaspoon salt

1

egg
1⁄2 cup mushroom, slices

1

green bell pepper, chopped

2

ounces pepperoni, chopped

2

ounces black olives, canned, sliced

1

cup tomato sauce, low sodium
1 1⁄2 cups mozzarella cheese, shredded reduced-fat
Preheat oven to 400 degrees F.
Mix uncooked beef, bread crumbs, oregano, salt and egg.
Press mixture evenly against bottom and side of ungreased 9 inch pie plate. Spread mushrooms, bell pepper, pepperoni and olives and then a thin layer of cheese on top of beef mixture. Repeat the layer without the cheese. This should fill up the pie.
Pour tomato sauce over toppings.
Bake uncovered for 25 minutes and the beef is no longer pink in center and the juice is clear.
Carefully drain the juices.
Sprinkle with cheese bake until the cheese is light brown.
Let stand 5 minutes.