Crustless Bacon, Spinach & Swiss Quiche - Low Carb
Anonymous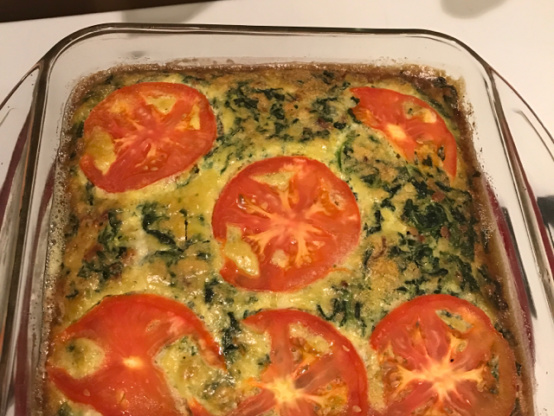 I've read through a lot of recipes to come up with my version of this quiche. I wanted to make one that is crustless and low carb, and this one is a WINNER! But once I start eating it, I just don't want to stop! I thought I could make it ahead so I could have a quick breakfast on work mornings, but this rarely lasts out the day it was made!

Top Review by MelMay
great base recipe. i made mine with a few tweaks--sauteed the onion with red pepper & spinach, then layered that on the bottom of the quiche plate. topped that with 2oz of shredded swiss, then crumbled turkey bacon, then four ounces of crumbled goat cheese on top. poured the egg & cream mixture over the top and shook it around a bit so the egg settled through all the layers. at 350 it took mine about 33 min to be nice and golden on top. we ate half for dinner tonight with a simple salad, and will bring the rest to work tomorrow. it was delicious--very flavorful, very moist. possibly a little too moist, i think next time i would squeeze out the thawed spinach a bit more and maybe let it simmer over lowish heat to cook more of the water out first. despite the tweaks, i am giving this one 5 stars because it is going in my cookbook as a great base recipe for endless variations of crustless quiche. i will be workin' that quiche plate!
On a foil lined pan, cook bacon in 350 degree F. oven until crisp.
While bacon cooks, chop onion and shred cheese.
Heat 1 tablespoon butter and 1 teaspoon oil in skillet over medium heat. Add chopped onion, and stir to coat.
When onion turns glossy, add thawed spinach, and stir to mix. Heat about 5 minutes, then remove from heat to cool.
Remove bacon from oven, and place on a paper-towel lined plate to drain.
Stir together eggs, salt, pepper & heavy whipping cream in a medium bowl.
Add in cheese, onion/spinach mixture, and bacon. Stir thoroughly to mix.
Butter a glass pie plate or quiche dish, pour mix in, and pat evenly with a fork.
Bake in 350 degrees F. oven 25-30 minutes, or until a knife inserted in the center comes out clean.
Let rest 5 minutes before cutting & serving.
I bet you can't eat just ONE slice!