Crunchy Noodle Kugel a La Great-Aunt Martha
Prep 30 mins
Cook 30 mins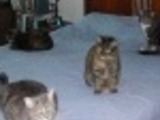 Posted and developed by Melissa Clark, in the New York Times on 9/12/2007, for Rosh Hoshana. Not at all for the health conscious.
Directions
Put raisins in a micro-wave safe bowl or small saucepan and cover with sherry or orange juice. Heat on stove top (3 minutes) or microwave (1 1/2 minutes) until liquid is steaming hot. Let cool while you prepare kugel mixture.
Preheat oven to 400 degrees F. Butter an 11 x 17 inch jellyroll pan. Cook noodles according to package directions and drain well. Immediately return noodles to pot and add butter. Toss until butter melts.
In large bowl, whisk together the eggs, cottage cheese, sour cream, sugar, cinnamon, lemon zest and salt. Drain raisins and add to bowl along with butter noodles. Mix well.
Spread mixture in prepared pan and smooth top. Bake until top is crusty and golden, 25 to 35 minutes. Serve warm or at room temperature.
Most Helpful
This came out really nice and crunchy, but there was a hint of creaminess in there too, with all that sour cream and cottage cheese. Which is good, because it kept the raisins soft which I liked alot. I used 1 cup of orange juice which went well with the recipe. I'm glad the sugar was only a third cup because with all the juice and raisins and cinnamon it would have been way too sweet to add more sugar.
Made for MIH tag game. I used orange juice instead of sherry and low-fat versions of the cottage cheese, and sour cream. I used pam to "butter" the pan with and I decreased the amount of butter on the noodles to 2 T. I also used egg substitute.