VickyJ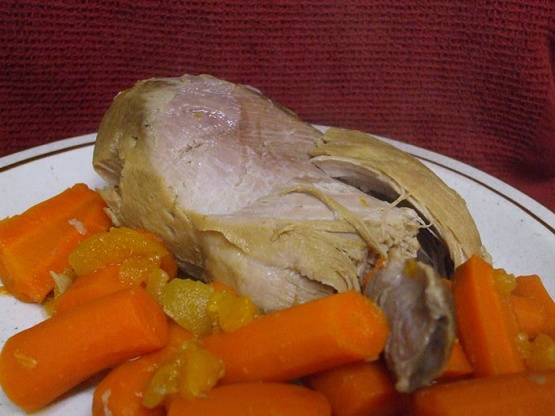 This is my own recipe. I wanted a pork roast that would fall apart with an apricot flavor so I came up with this very simple recipe that you can put in the crock pot at noon and it'll be ready when you get home from work with just a little finish prep work. We eat this will rolls and a salad.

Top Review by VickyJ
We had this for a Saturday dinner. It was very good. The only thing is that the apricot jam added a sweetness, but not like I think it should have. It didn't really blend in well with the broth, even after stirring it several times. Maybe it was the brand of jam I used. Other than that, the roast and carrots were delicious. I used chicken broth, because I didn't have any italian bouillon. With that, i added a bay leaf as I always do with roasts. Thank you for the tasty roast recipe.
1

(3 lb) pork roast, I prefer neck roast or butt

6

medium carrots (peeled and cut into thick chunk slices)

3

cups water (1 cup per lb of meat)

3

italian bouillon cubes (chicken can be substituted, need 1 cube per cup of water, chicken broth can also be substituted)

1

(12 ounce) jar apricot jam (or homemade freezer jam works well too)
Microwave water and bouillon cubes together until cubes have dissolved. Turn Crock pot onto high. Place pork roast into bottom of crock pot and add bouillon water over top.
Place peeled and cut carrots into the bouillon in the crock pot, cover and cook for 4 to 5 hours. 1/2 hour to 1 hour before you are ready to eat add the jar of apricot jelly over the pork roast, cover and continue to cook.
Serve with rolls and a salad.
The apricot flavoring makes the carrots more like a dessert than a vegetable.