Crock Pot Curry (Aloo Rajma)
nbrush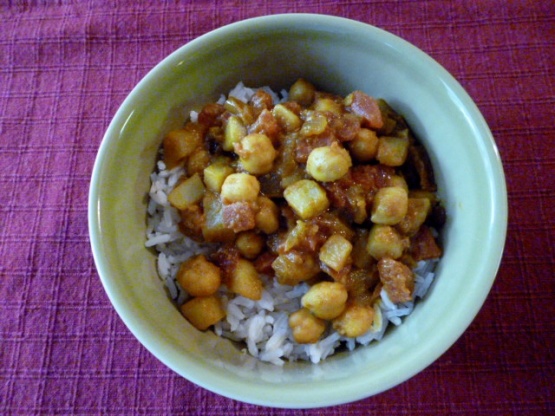 A hearty vegetarian curry prepared in the crock pot to allow flavors a long melding time, yielding a deep, savory, and, depending on your curry powder, explosive dish.

Top Review by stingo
Delicious and dead easy to make. I gave samples to three people at work and they each wanted the recipe, which is always a good sign. I made the recipe exactly as written (with all optional spices), and it's hot, but not annoyingly so to my palate. I think the heat is properly used to provide structure and depth of flavor to the dish, though more heat-sensitive palates may wish to moderate the cayenne and the heat of the tomatoes/chilies. Very highly recommended.
Heat olive oil in a saucepan or skillet. Add spices, saute for 1 minute or so.
Add onions and saute for 2 - 5 minutes.
Add both cans of Rotel.
Pour mixture into crockpot. Add potatoes and canned beans to crockpot.
Allow to crock on low for 6 - 9 hours or on high for 3 - 5 hours, depending on your crockpot.
Serve over rice or with makki di roti (indian cornbread).